The View From Your Window Contest: Winner #242
The return of the contest is also a return to its first view.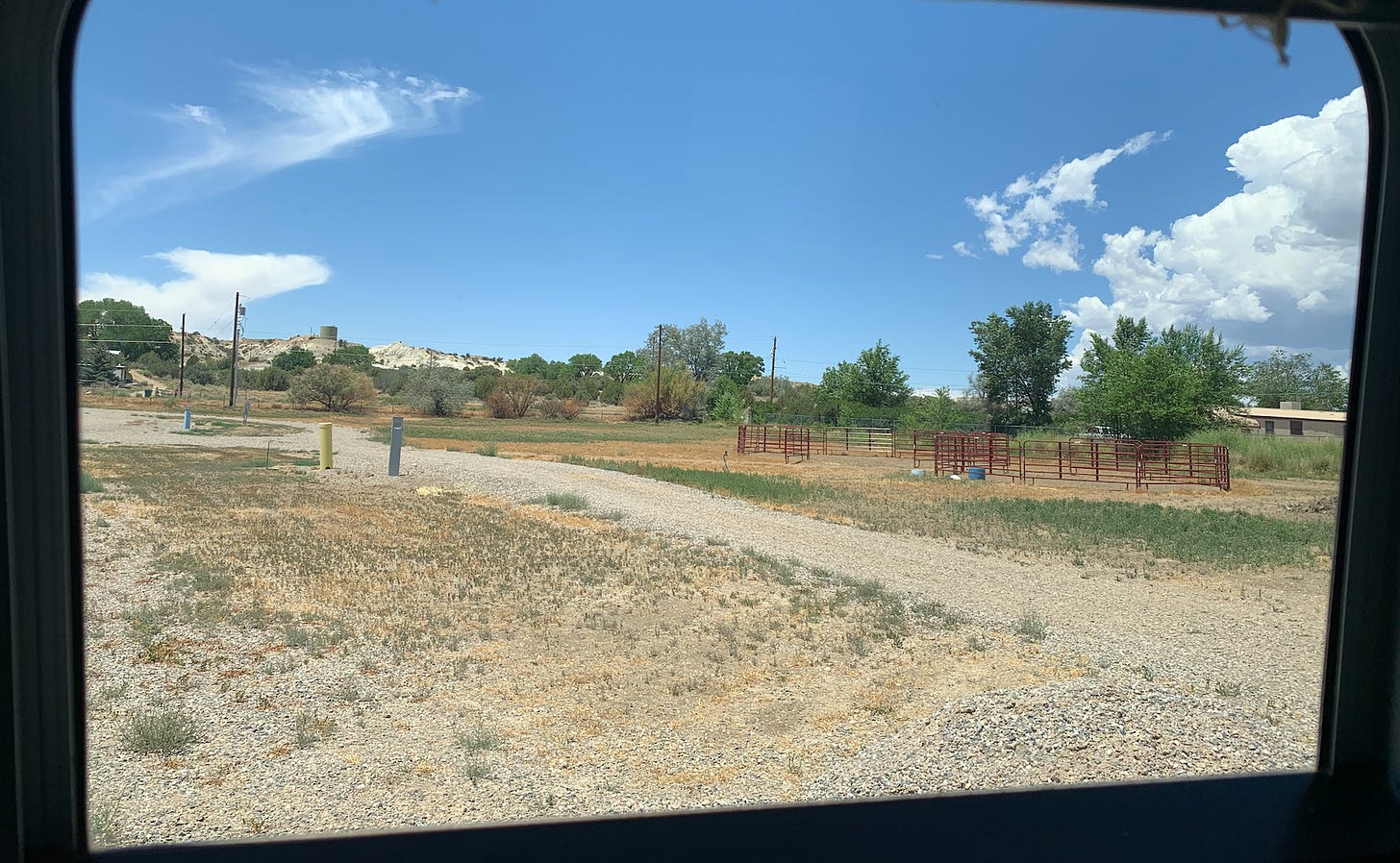 A reader heralds the return of the fabled contest with a bit of verse:
Sleeping blog arises!
"The game is on!", he spoke,
Back from hibernation,
If not completely woke ...
A "first-time subscriber and first-time TWD VFYW player" gets the first guess: "Tombstone, Arizona, a.k.a. 'The Town Too Tough To Die'"—much like the Dish itself. An Eagles fan goes with Winslow, Arizona: "Such a fine sight to see—even if it's not!" Another reader squints his eyes:
Looks like a gypsum deposit or mine in the distance, and the feel of the landscape and the look of the vehicles and dwellings seem central plains/south-central U.S. But not enough uniqueness for me to be able to narrow it down, so I picked a small city in the middle of the region with the largest concentration of gypsum deposits: Hollis, Oklahoma.
Another reader observes, "There appears to be an oil supply container at the top of the hill. Looks very much like the hardscrabble landscape of West Texas. San Angelo?" Nope, but right region. Another reader is frustrated:
Gah, what a tough one. The only clues I could discern were the dry climate, an old water tank on the hills, and some fencing that looks like it might be for corralling livestock. Google eventually turned up a water tank that might be a match, but it's too far away in the View to be certain. Is it Santa Clarita, CA? A little more research shows that "Perry Mason" [the show that Andrew reviewed last week] did some filming nearby, so maybe that's the "meta clue" you alluded to?
Nope, but another reader goes with meta guesses as well:
Are we in Firstview, Colorado? Could it be Freedom, Oklahoma? Are we looking out on Corona, New Mexico?? I'm guessing it's Fort Defiance, Arizona—seems like a good place to relaunch the Dish from.
Another reader writes, "The meta clue is that our window is that of a train: Amtrak's Sunset Limited. And this is just a wild guess: Marfa, Texas?" Marfa is a charming place; I stopped there last year on the way back from Big Bend to meet one of my favorite freelance journalists, Rachel Monroe. Check out her incisive piece on #vanlife and the insidious nature of sponsored content—that old bugbear of the Dish.
But no, the photo wasn't taken from Marfa, or from a train, which many readers guessed. A previous winner of the contest (#208, Paris) "forgot just how much I miss VFYW and just how much I hate VFYW":
The whiplash from "You've got to be kidding me, this impossible!", to "Oh, I figured it out!", to "I've now spent four straight hours driving around on Google Maps, but I still think I'm right," brought me back to contests past like it was yesterday.

My initial thoughts were somewhere in the Sun Belt: lots of scrub brush, horse fencing, pickup truck, the window frame looks like it is from an RV, but beyond that not a whole lot to go on ... except for the "meta clue." It took a while, but then the lightbulb went on: "What if there was a town called Dish?" So with a little googling, low and behold there is indeed exactly one town in the USA named Dish [specifically "DISH"—all caps, because it was renamed for the DISH Network, an acronym for "Digital Sky Highway" … Ed Helms explained it all on the Daily Show].

Luckily there are only a handful of roads in DISH that are on Google Street View:

But after driving all the streets, I still am no closer to finding the bluffs with the water tower.

One of the great things about the VFYW contest is the humility it brings. There is nothing like spending ten hours locating a window and feeling pretty good about yourself … until you find out at the end of the week that 300 other people did the exact same thing, so the contest was considered "easy." This week, though, I found a real sense of comfort in knowing that, in a time when we are all dealing with different levels of isolation, there are probably hundreds of other recovering Dishheads driving around DISH on Street View and googling the same things I am—a number of Dishheads that probably far exceeds the actual population of the town, 208.

So, here is my guess: the window from the back of this bus parked in the middle of a field in DISH:
Only 794 miles off the mark this time. A reader who also guessed DISH writes, "My backup guess, if such a thing is allowed, is Sullivan City, TX." Nope, and there are definitely no towns named Bodenner.
A previous winner of the contest (#130, Santiago, Chile) is stumped:
Thrilled the Dish is back (I just subscribed) and thrilled that VFYW is back, but man, what a brutal way to restart it. I thought the idea behind puzzles with meta clues is that you're given the meta clue, which makes no sense until you figure out the puzzle and then you have your "aha" moment. How about a normal clue about the meta clue?
OK, here's the meta clue: the location of this first contest for The Weekly Dish is the same location as the first contest for The Daily Dish—back on June 9, 2010. In a wonderful bit of serendipity, the day that Andrew announced the re-launch of the Dish, two Fridays ago, I was traveling through New Mexico with my Airstream (which I've been living in for the past three years, exploring the U.S. and writing—but that's a story for another day). I was driving in the direction of a town whose name I only remembered because it was featured in the first-ever contest, so of course I had to visit, and I snapped the photo of this week's view myself (something I've only done once before, for contest #217, in Buenos Aires). So, now you have another big clue: the view is from New Mexico.
This reader got the right state:
The rural scenery, the type of vegetation and, above all, the ridiculously beautiful sky scream New Mexico to me. I have seen those types of hills in the background, with the same color, shape and vegetation in northern NM, specifically around the area of Chimayo, Española and Pojoaque—so I'm going to go with that.

Aside, New Mexico is frankly the most beautiful and soul-healing place in the entire world. If you ever get tired of the East Coast and really (but, really) want to reset your internal compass, you should consider a visit out here.
I couldn't agree more. I've spent a total of four months in Santa Fe over the past year, exploring the surrounding area, and it's definitely the best place I've discovered in more than three years of Airstreaming—from the baths of Ojo Caliente and Ten Thousand Waves, to the natural beauty of Echo Amphitheater, Plaza Blanca, Ghost Ranch, and Jemez Caldera, to the cultural quirkiness of Meow Wolf and Tesuque Village Market … it's hard to make a short list. I even befriended a bison: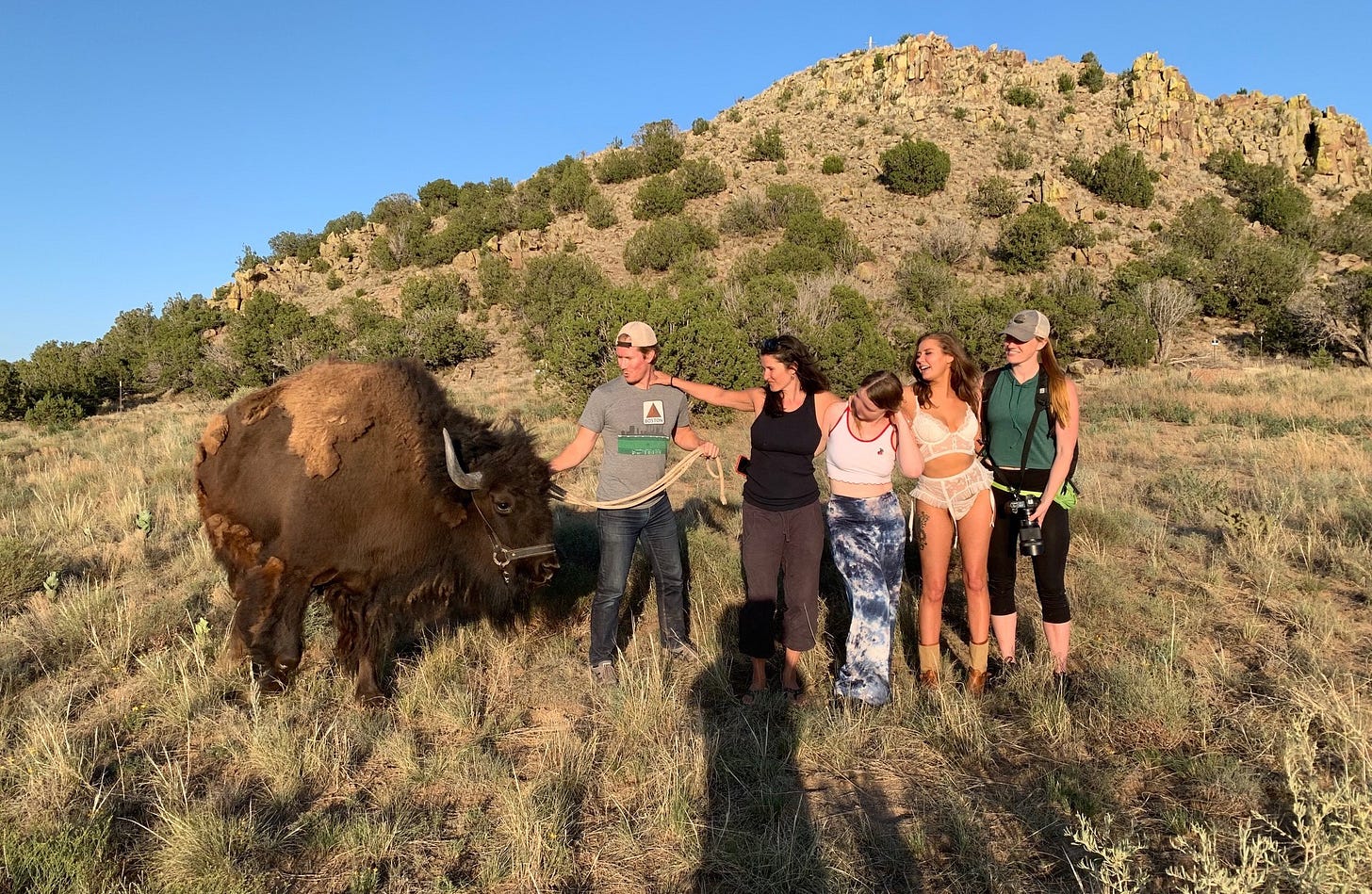 This reader is on the right track: "I have neither the time nor the geographic savvy to do this the right way, but I'll take a lazy guess: somewhere between La Chuachia and Ojo Caliente in northern New Mexico. Or any of about 9,457 other places in the Southwest." Another reader gets closer by going west: "It looks like it could have been a scene from either Breaking Bad or Better Call Saul, so I'll say Albuquerque."
A long-time Dishhead in Italy nails the exact location:
I was expecting something easy this week—maybe not as easy as last week's view from Milan [he means the last contest we posted, on February 4, 2015], but close to that level of difficulty. Instead, I found a view that on first sight looked almost as intractable as two weeks ago's [January 27's] Prague (I am still a little upset at that débacle of mine, when I think of it). But on closer examination, it wasn't tough at all.

Now: what are we seeing here?

The first clue is the window (or is it a meta clue? Not sure about that). This is not a normal window: looks more like a car window. Maybe a car in a parking lot? No, the VFYWC has never featured a view like that, as far as I remember [he's correct]. This leads us to one possibility: the view from a trailer or motorhome (or camper van?), in a RV park. You can easily pick out the power and water hookups (the grey pedestal and the dark staff on its left) and between them … what is that yellow thing? A trash bin? I still don't know, but it provided the decisive clue. There is also a corral on the right: it turns out that some RV parks feature a so-called "horse motel," "to accommodate travelers with live stock."

Next: where are we?

Somewhere in the U.S., this is clear (the horse motel is definitely a U.S. sort of thing). A barren landscape (look at those hilltops!) and the short shadows (in a photo probably shot close to the summer solstice) tell us we're in Southern California, or in Arizona, New Mexico, or West Texas. Now we know enough to perform a search.

After some googling, I came across this photo:

The yellow thing! And here is the next photo on the same website:

The corral! With the same blue manger.

This is the B&L RV Park and Storage, in Farmington, New Mexico. The photo was shot from Spot 11, looking WNW:

And here is a photo showing Spot 11, where you can easily pick out the same landmarks as in this week's photo:
Our reader in Italy has won the contest before (#220, Manzanillo, Mexico), so he's ineligible to win again. The same goes for the victors of #234—a husband-and-wife team, who guessed the location of a honeymoon view in a Moroccan village. They're at it again this week:
Can't tell you how happy we are—my wife and I—to have the VFYW back. It's been a long five years, and during that time we found nothing that could replace it. (My wife turned to cryptic crosswords, but that was a very poor substitute.) We've bored our friends talking about the contest—and especially the one time we actually won in December 2014—and I'm not sure they quite understood our fixation.

This week's view was a real puzzle. I started out thinking it had to be in South Africa. My wife thought western North America. As I scoured through pictures of abandoned quarries in Africa, she was zeroing in on the landscape in Arizona and New Mexico, and looking mainly for storage silos. Neither of us have any experience with RV parks, so we didn't recognize the yellow and blue electrical service fixtures for what they were.

Eventually my wife came across a website for RV parks in New Mexico. And there, in the website for "B&L RV Park & Storage," was a picture showing the same fence you see in the centre-right of the contest view. From there it was a matter of locating the storage silo and determining exactly where the photograph had to have been taken. I've attached the Google satellite photo:
Red marks the spot, right where my Airstream was parked. B&L was a great place to stay—the grounds weren't super scenic, but the owner, Lee, was exceedingly nice and helpful, and the dog park (the large rectangle between the RVs) was a really nice feature for Sophie, my girlfriend's terrier mutt. She also enjoyed Jackson Lake, which has an easy two-mile hike just down the road from B&L. The cool waters were highly appreciated in the 100-degree heat: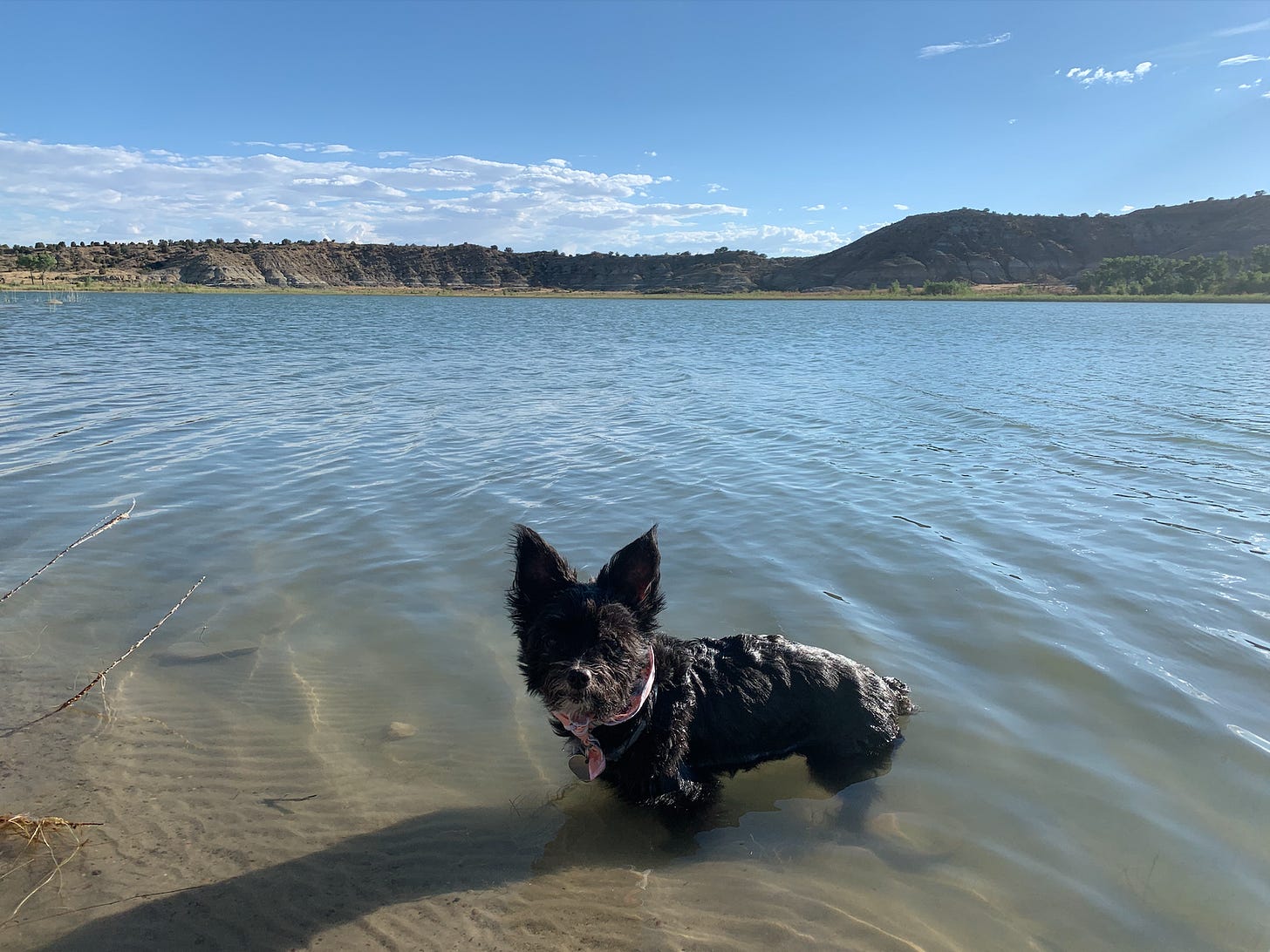 Since the only window contestants this week who guessed the exact location are ineligible to win because of prior wins, proximity counts. The guess that comes closest to B&L—20.7 miles down the road, to be precise—comes from this reader:
Waterflow, New Mexico, near the Navajo Nation? The look is right and the tank looks right. But my guess may be more to do with wishful thinking and homesickness during this horrible plague time. I used to lived a ways out near Black Mesa, but I often passed through Waterflow on the way into Farmington. I'm not Navajo myself, but my mom was a teacher who worked in an early community school, where I also attended. I haven't been back in years.

I've always sucked at this contest, but I follow with enthusiasm every week! 
Or as another reader puts it, "Man, it's just like riding a bike you always sucked at riding." Well, our Waterflow reader sucks no more! As is tradition, our winner gets a free View From Your Window book or two free gift subscriptions to the Dish.
By the way, I had this whole post drafted early this morning, all ready to publish, when a last-minute entry slid through the door—from the grand champion himself:
Why am I happy to see this little visual trivia contest return? Well, in a week filled with pandemic news and the sadness of John Lewis' passing, the contest is doing what it's always done: provide the perfect mental escape. So without further ado, let's hop back into the saddle and head out yonder.

This week's view comes from the B&L RV Park in Farmington, New Mexico, and it looks west by northwest along a heading of 294.81 degrees. The exact coordinates of the viewer's window are: 36.829168°, -108.226777°. I've attached an angled overhead view, a reverse view with a circle marking the spot where your viewer was parked, and a .gif of myself when I found this week's location: