VFYW Contest: The Set Of The Next BearCity?
Also, for contest #253, the submitter of the photo guesses her own view.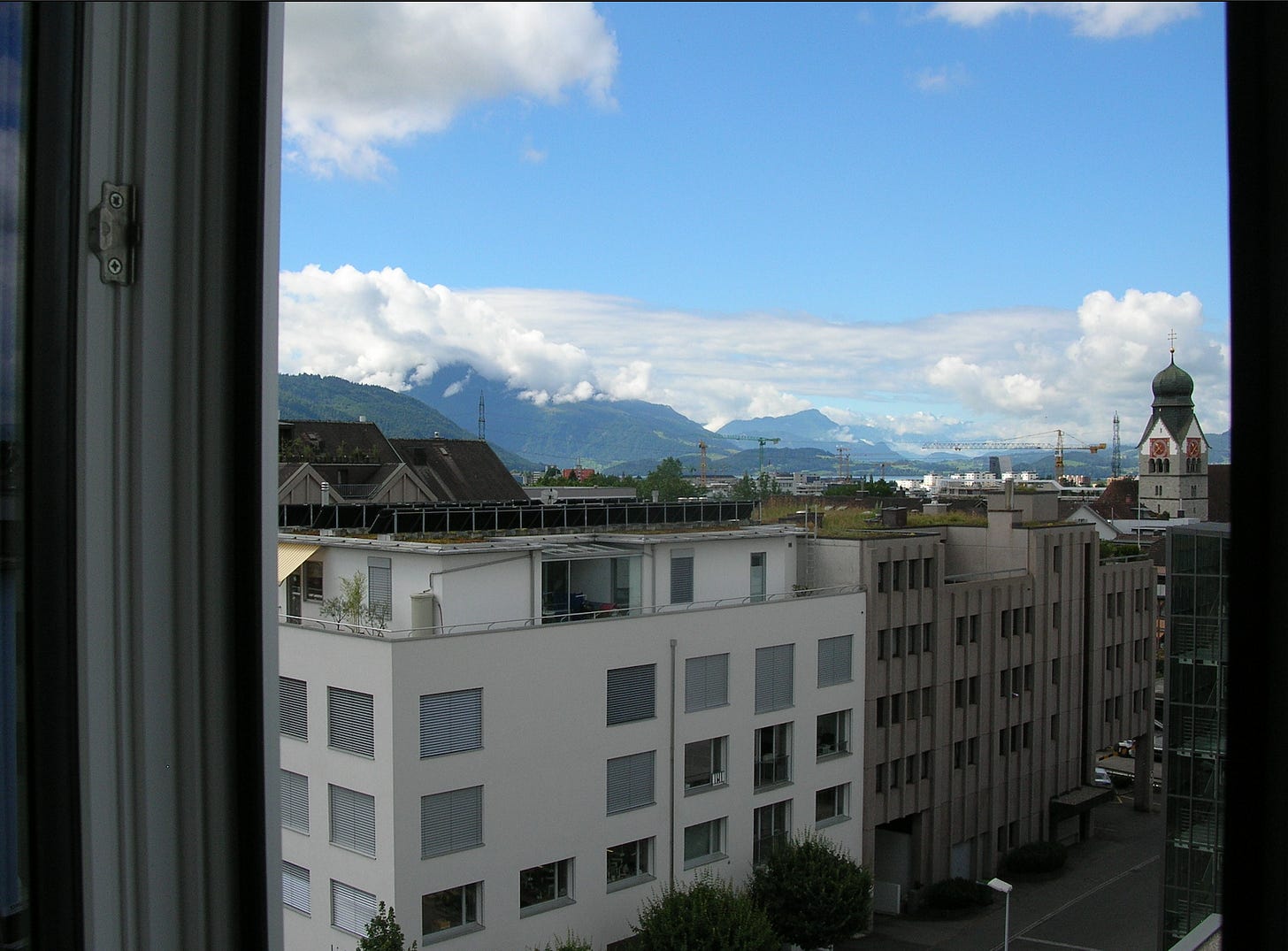 A reader writes:
I'm looking at an Eastern Orthodox crucifix, some mountains. Tiblisi, Georgia? Sort of a half-baked guess. Second guess was somewhere in Ukraine. 
Another reader says Sarajevo, while another guesses, "The photo is of Mt Elba taken in Sicily." Another heads north to Germany:
Füssen? The clock tower seems like it is in Bavarian Alps or just across the border in Austria and should be recognizable. I picked Füssen because it seems to be in the center of the region, a slightly bigger city, and has a lake nearby. 

But, assuming I'm in the vicinity, my best memory from the area is an intense summer rainstorm that caught my wife and me on a bike tour in the mid-'90s. After four months of camping every night, shortly after crossing from Austria to Germany, we bailed on reaching our campground and took shelter in a pub — where they rented us a room over the bar. The patrons took pity on us, buying us dinner and more beer than we could stand, and then regaling us with oom-pah songs. 

My wife, who is Jewish, was taken by surprise on her first visit to Germany. Her parents, who as children emigrated from Poland to the U.S. just before WWII, had demonized the country's inhabitants and swore they would never visit (and urged us to skip it too). It's good to jettison these kinds of biases, at least in the next generation. As the last four years have shown, any country is susceptible to irrational tribalism for a little while … let's just hope this round in the U.S. ends next month.
The town of Füssen is very close to this iconic castle in Germany — Neuschwanstein, the inspiration for the Sleeping Beauty Castle at Disneyland: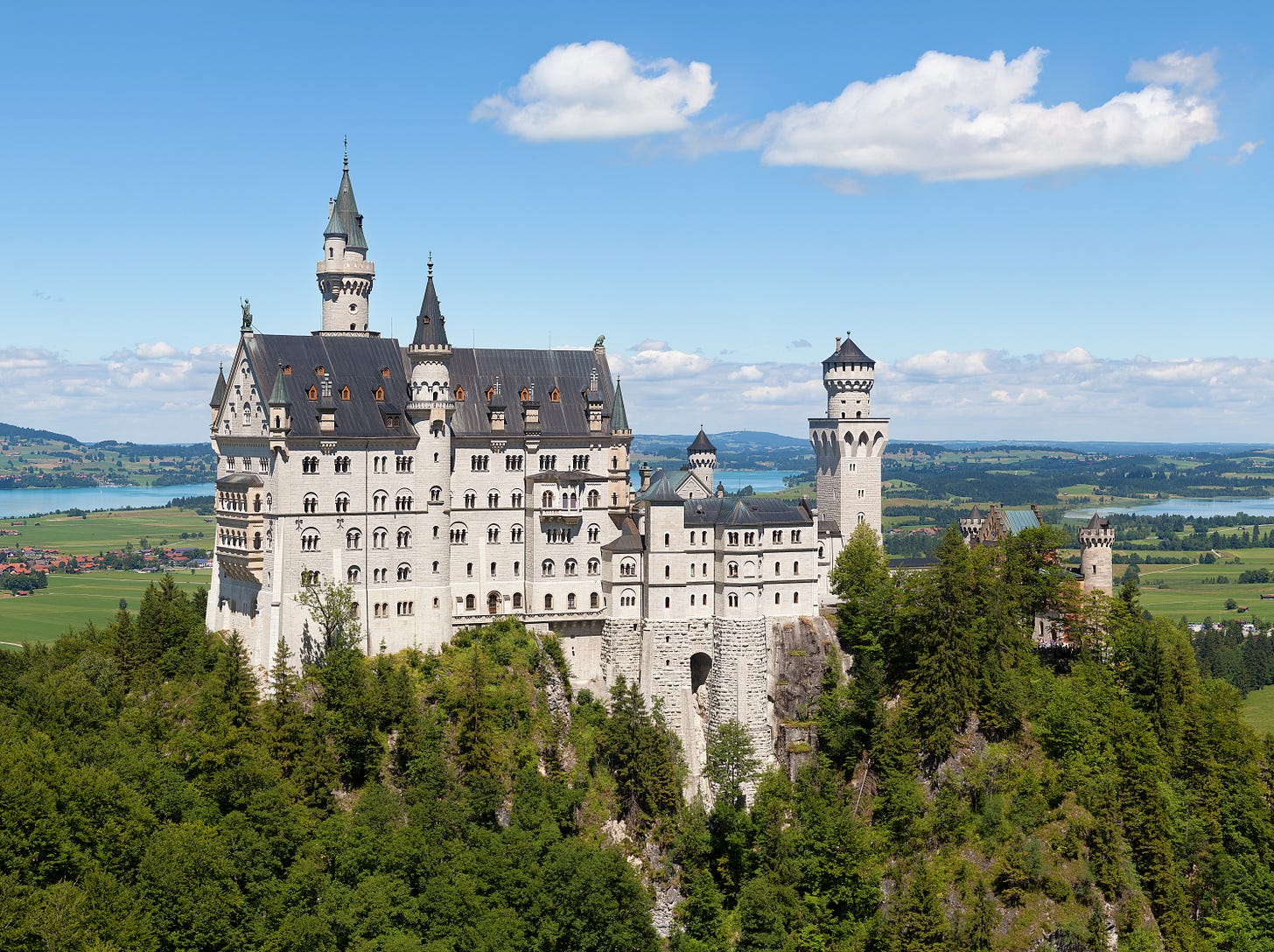 This reader peels back the layers:
Given that I am stuck at home during the pandemic, I very much enjoy these trips around the world. If I ever get to travel again, I need to look up more: I had no idea there are so many onion domes in the world. They're everywhere, from highly ornate, fairy-tale Russian Orthodox churches, to Catholic and Protestant churches throughout Europe, to mosques in the Middle East. The Taj Mahal is a huge one. The Dohany Street synagogue in Budapest — the largest synagogue in Europe — has two. Central Synagogue on Lexington Avenue in midtown New York also has two that are direct copies of Dohany Street.

All in all, I looked at hundreds and hundreds of photos of onion domes. Somehow the dome in our photo never popped up, no matter where I searched or the keywords I used. Based on the architecture of the clock tower, specifically the peaked cross gables that the dome sits on, I'm guessing we are somewhere in the band across Switzerland, Bavaria, or Austria. Most everywhere else, the spring line of onion domes are straight across. And based on the simplicity of the stone tower, I'm eliminating Austria, since all their church towers are beautifully ornate. Both Germany and Switzerland have green roof incentive programs, which may explain why the two buildings across the street have vegetation on their roofs with water retention systems.

Beyond that I'm stumped; either Bavaria or Switzerland is my guess. Am I close?
Yes, it's one of those two places. This reader also goes looking for onion domes:
This week's VFYW … looks like Germany? Austria? Prague? France? Hungary? Slovakia? Romania? Ukraine? or none of the above … I know it is not Regensburg, Germany, but it was the closest I could find:
Another reader settles on the right country:
The church in the foreground looks a lot like what you see in Bavaria and the mountains and water feel like the Alps. The cranes are an interesting clue — pretty much all of Eastern Europe in the '90s/00s. This one seems so close, but I can't find it, and I timed out again. Switzerland? Very frustrating, but there are worse things than spending a couple of hours looking at photos of mountain towns in Europe.
Switzerland it is. Another reader takes a stab at a Swiss city:
Lucerne? Lots of lakes in Europe, but most of the large lakes with sizable cities or towns on their banks are in Switzerland. Finally found the same mountain profiles and patterns of grass patches as seen in the Window in the southeastern section of Lake Lucerne.
Another stab:
Zürich? Looking out across Zürichsee to Wädenswil and the mountains.
Nöpe, but close. Another stab:
Hergiswil, Nidwalden, Switzerland? I think it's taken by the train station.
The view is by the train station, but not in Hergiswil. This reader gets the right city and the right building:
When I saw that distinctive church tower, I immediately thought Central Europe. A little digging unveiled a Swiss regional paper (Zuger Woche) with a picture of the St. Martin's Church tower on the cover. So this view is from Baar, in the canton of Zug, Switzerland. Based on the number of construction cranes in Google Street View circa 2013, I'm going to guess it was taken in that year. (2013 also holds a fond VFYW memory for me; I won the contest that year on a lucky stab in the dark.) I'm fairly sure the view is from the Baarcity Restaurant building.
Did someone say BearCity? Andrew's hunk of a husband, Aaron, starred in the sequel to that movie (which, yes, is also spelled as one word):
Another reader tells us more about Zug, the canton where our window is found:
In current events, Zug appears to be the Swiss HQ for Gilead Sciences, makers of Remdesivir, which is being tested in trials as a COVID treatment. Across the lake is Rotkreuz, home of Roche Diagnostics HQ, makers of diagnostic medical tests, including several COVID Rapid Tests.
The contest poet jumps in:
I clicked across Europe,
My index got bunions,
In a tale of double crosses,
The soundtrack? Green Onions.

I almost gave up,
All alone with my jug!
But got a Baar hug, 
In the canton of Zug.

This plot had more holes,
Than a slice o' Swiss cheese,
But downstairs is Migros ...
"Eine grüne zwiebel", please!
About two dozen readers also guessed Baar. One of them reflects, "My wife and I spent a year in the Alps after we got married, and through our travels got a little taste of how different spire and dome architecture is across the region." Another Baar guesser enjoyed the virtual escape:
After a terrible, horrible, no good, very bad week, it was a nice respite to spend my Friday evening solving this puzzle. Thank you!
Thanks to Chini for this bird's-eye view — and what sounds like a paid promotion for The View From Your Window Contest:
Overwhelmed by the politics? Obsessively refreshing the 538 model? Well my friend, a VFYW contest trip to the Alps is just the distraction you need. We've been here before of course, most notably VFYW #148 from Rohrmoos-Untertal in Austria, but this one was taken at a much more pleasant time of the year …
He went on to nail the exact window and the exact year and month, of course, but we'll leave those details to mere mortals below. Several Baar guessers were first-timers to the contest, including:
I normally shake my head at the picture and wonder how on earth people manage to solve it, but now I'm starting to understand … the biggest advantage in this case was being able to figure out the country straight away, which is often the hardest part. I've only been reading The Weekly Dish since you and Andrew joined Substack, though as a longtime reader of Freddie deBoer I was familiar with Andrew and remember reading Freddie's guest posts on The Dish back in the day. All the best to you and Andrew!

A search for onion-dome churches in Switzerland brought up this page, and the characteristic design was a clear match with St Martin's church in Baar.
Another reader notes about the church, "Built after 1360, this 45m tower features 'Interesting, very heterogeneous ringing with bells of different times and origins.'" Another reader looks inside:
Looks like the church was shut down during the pandemic. According to their Facebook page, they were conducting services over WhatsApp!
From another newbie who got Baar: "I am writing this from Tbilisi, Georgia, where the contest (first time I am taking part!) is a welcome break from looking at the horrendous news out of Nagorno-Karabakh." After lots of great sleuthing, that reader writes:
"Are you alright?" is the call I hear from my girlfriend right now, who has already retired and is wondering what I am up to. Thus ending my quick note from the Caucasus, and thanks for this wonderful chase!

P.S. Based on Meteoblue archives, we could find the exact day where the wind and clouds line up with the weather, but then I would be a single man. Goodnight!
This reader goes for the right address in Baar:
Lucky me, I used to work for a Zug-based company and instantly recognized the trapezoidal "Uptown" building in the background of this shot, sitting alongside the barely visible "Zugersee" lake. A quick search of churches in the area brought me to St. Martin's and then, equally quickly, to a building whose address is Bahnhofstrasse 5, but whose southern tower overlooks Postrasse and, lo-and-behold, St. Martin's. Full address: Bahnhofstrasse 5, 6340 Baar, Switzerland. Send me my winnings please!
Close but no cigar. A view of Bahnhofstrasse from Google Earth: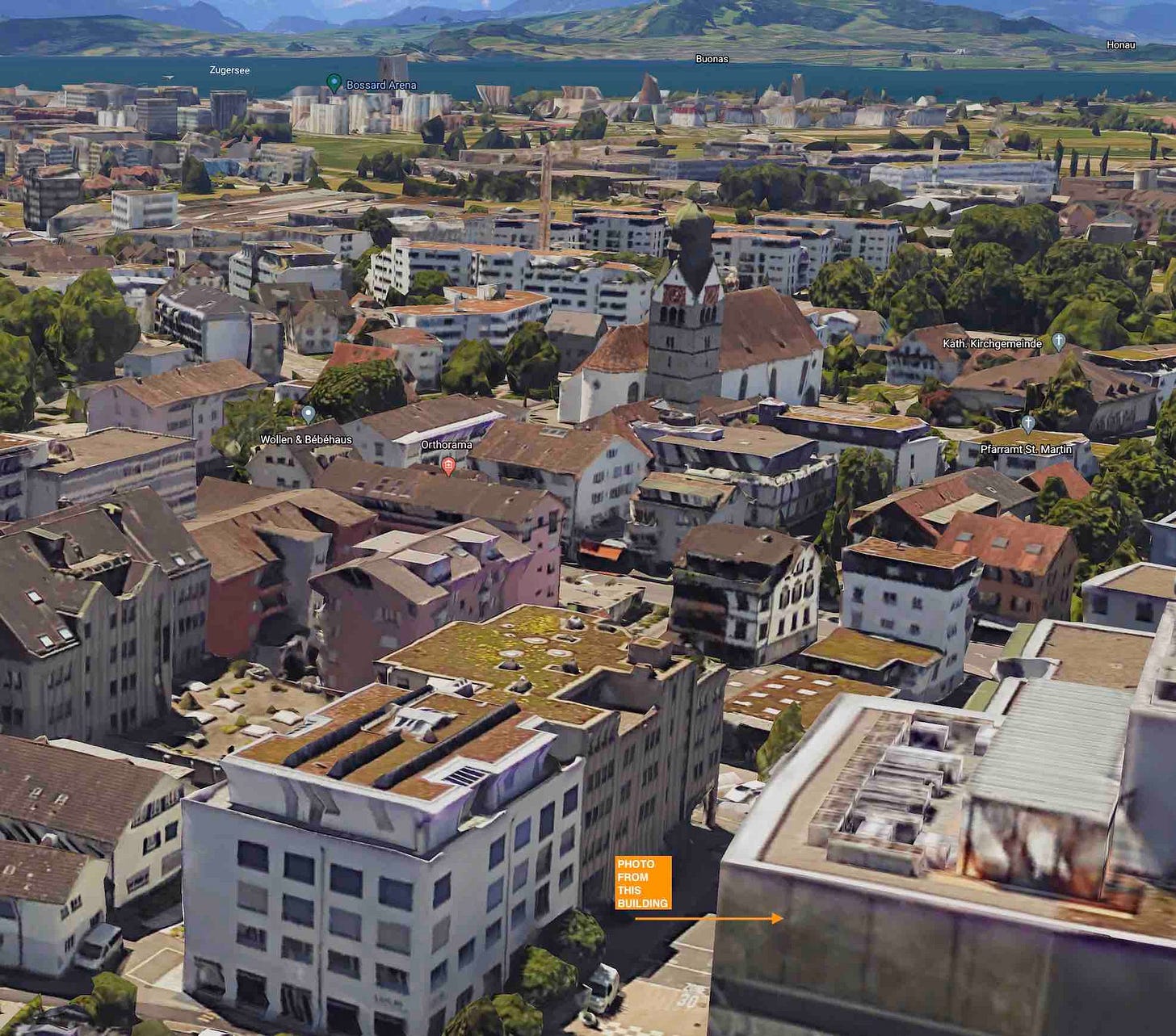 This reader gets the right address:
One of your contestants — maybe it was Chini — said that every VFWY contest requires in-depth research of some particular landscape feature. Last week it was radio towers on college campuses. This week it's onion-dome church-towers — which apparently can be found all over Eastern Europe. After skimming through some cities in Austria, Bavaria, and Hungary (seemed unlikely given the current political situation), I decided that the triangle feature "seemed Swiss," and lo and behold: Wikimedia Commons to the rescue.

After hunting around the city of Baar, I found that 4 Postrasse gets you the right view. The only building on the street with the correct angle on the church and surrounding buildings appears to be 5 Bahnhofstrasse — a building with a supermarket. HOWEVER, further investigation reveals that the residential tower with the right view is a separate building that merely looks adjoined: 7 Bahnhofstrasse.
Here are two visual entries from two readers — who seem to be stalking this cyclist: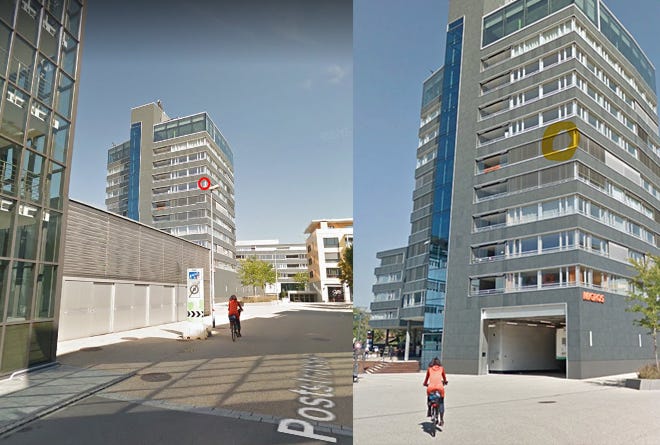 How to pick the winner this week? It was a tough call, since there were so many accurate and creative entries, but the tiebreaker goes to the following reader, since he nearly won a previous contest and has contributed to many more. His entry this week was extremely detailed and contained more than 20 images, including the WhatsApp church above. Here's the most eclectic set of images he sent:
And the elephant in the room — what the heck (??) is that oddball concrete building way back in the source photo that looks like it was designed off the cover of Led Zeppelin's PRESENCE album? It's actually not concrete at all. It's the Bossard Arena, which looks more normal close up and quite fancy at night:

Pretty amazing for a town of 40,000!
There was a bonus aspect to this week's photo: which year was it taken? It's definitely not 2020. I tipped my hat in the direction of an earlier year so I wouldn't confuse readers expecting a present-day view of Baar, which no longer has those construction cranes. Let's hear from a reader in Japan, who was "confined indoors this weekend because of the typhoon hitting Osaka, so I devoted rather too much time to this week's VFYW contest":
The hard part was trying to work out what year the photograph was taken. The only clue I could see was the large number of cranes in the background. I spent a LOT of time googling "baustelle baar" (construction) and "baukran baar" (crane) and hate how this competition led me to reading endless Zug council bulletins on public works. After a few false starts I believe the key is the green crane seen in the centre of the photo:

It turns out that the government has been building a bypass road called Tangente Zug/Baar for the past several years. The green crane is positioned at Knoten Neufeld (Neufeld Junction) where the bulk of the construction work took place in 2018. Hence I believe the photo was taken in 2018. 
Still off by several years. This next reader gets very close to solving the temporal challenge:
For the year, I'm working off the construction of the Park Tower ("The Tallest Building in Zug"). I think it's what's being built by that cluster of cranes to the right of the green crane in the picture, but you can't see it yet. I couldn't find any Google Street views with histories, but I found a blog with photos during the construction. They broke ground in March 2012, but only had the lower floors' core in place in May 2013 when there was snow on the ground. So I'm going with the summer 2012 … July?
Oh so very close. Chini, in all his infallibility, was the only reader to correctly guess June 2012. Here's the original caption from the reader who submitted the photo more than eight years ago:
Taken from the fifth floor of Bahnhofstrasse 7 in Baar, Canton Zug, Switzerland, looking south, 10:40 am, June 27, 2012
I had excavated that photo from the email archives, hence the decade-long lag. In fact, so much time had passed between that reader submitting the photo and me posting it last week that she didn't recognize her own photo when she played the contest a few days ago! But rest assured, she still nailed her own view:
Looks to be taken from the fifth floor of the apartment building at Bahnhoffstrasse 7. (I can say that because I lived there for five years, until September 2015). The Church tower on the right is St. Martin's Church, the peak in clouds in the distance is Rigi. It could have been taken any time between when we moved in September 2010 and now.
Her followup this morning:
That's hysterical! I'd completely forgotten sending it. No wonder I was so sure about the location.

My husband and I lived in Baar from 2010 to 2015 while he worked for a global corporation headquartered there. Then we returned to our home in Philadelphia where we still live. We loved our time in Switzerland and sorely miss the opportunities for travel we had in those days.
---
This week: Baar, Switzerland. Next week: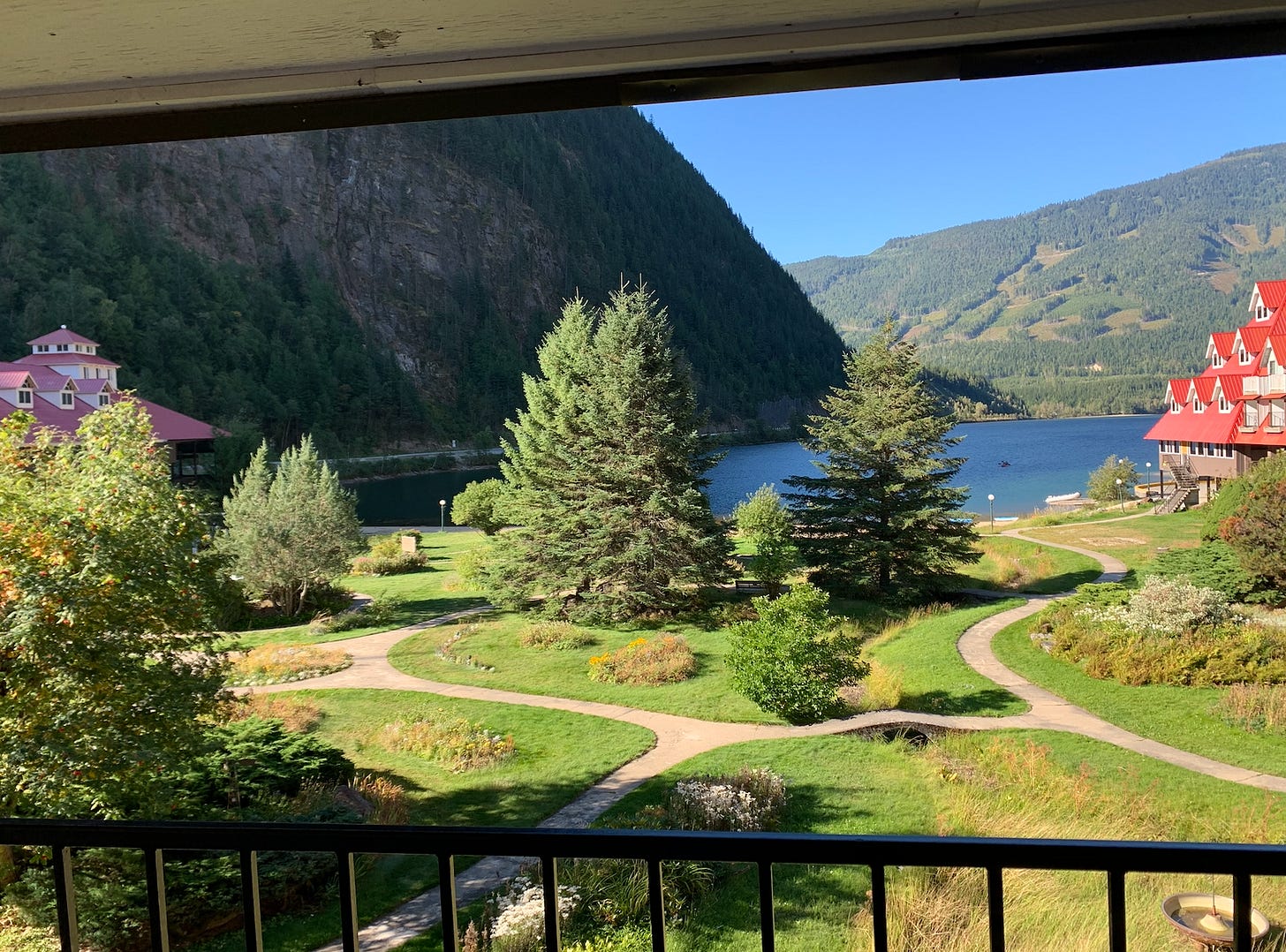 So, where is it? Email your entry to contest@andrewsullivan.com. Please put the location — city and/or state first, then country — in the subject heading, along with any details about the location within the body of the email. Bonus points for fun facts. The winner gets the choice of a VFYW book or two TWD subscriptions. Happy sleuthing!