Discover more from The Weekly Dish
"To see what is in front of one's nose needs a constant struggle," - Orwell
Over 154,000 subscribers
VFYW Contest: Overlooking A Ghost Town
For contest #254, readers get spooky for the season.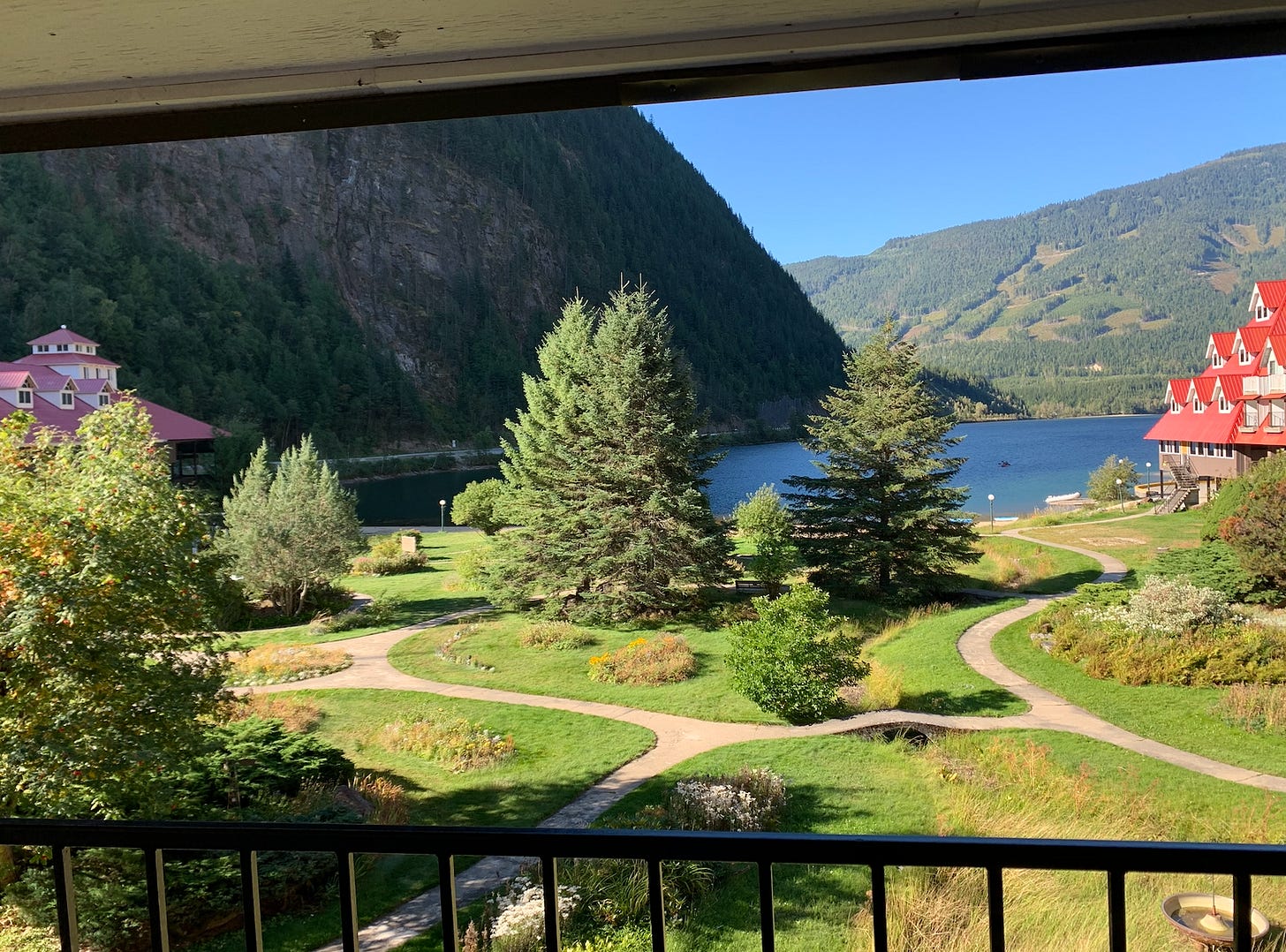 A reader writes:
Happy Friday! It's got to be Norway, with the road shimmying along the edge of the water with a steep embankment to the alternating side. I think that's a linden tree to the left. But that's all I got!
Another got egg on his face at Lake Bled, Slovenia:
I spent a lovely weekend there in July 2018. I had a very embarrassing incident involving a swing by the edge of the lake.
I had to ask for a followup:
So I was swimming at the lake with a few friends, having just arrived from Dublin. Egged on by my friends, I made the uncharacteristically bold decision to climb on the large tree swing and wind it back until there wasn't a pinch of slack left. I took a deep breath, lifted my feet, and off I went. Before I knew it, I was at the apex of the pendulum, suspended above the water. It was time to let go, but I didn't. I somehow forgot to.

Now I'm hurtling back towards the tree, going what feels like triple the speed. I'm too paralyzed by fear at this point to let go. I close my eyes and wait for my fate to unfold. The impact nearly crushes me and I hit the dry ground with a thud. Silence … followed by an eruption of laughter from what sounded like everybody in Slovenia.
A beautiful place to be embarrassed, though: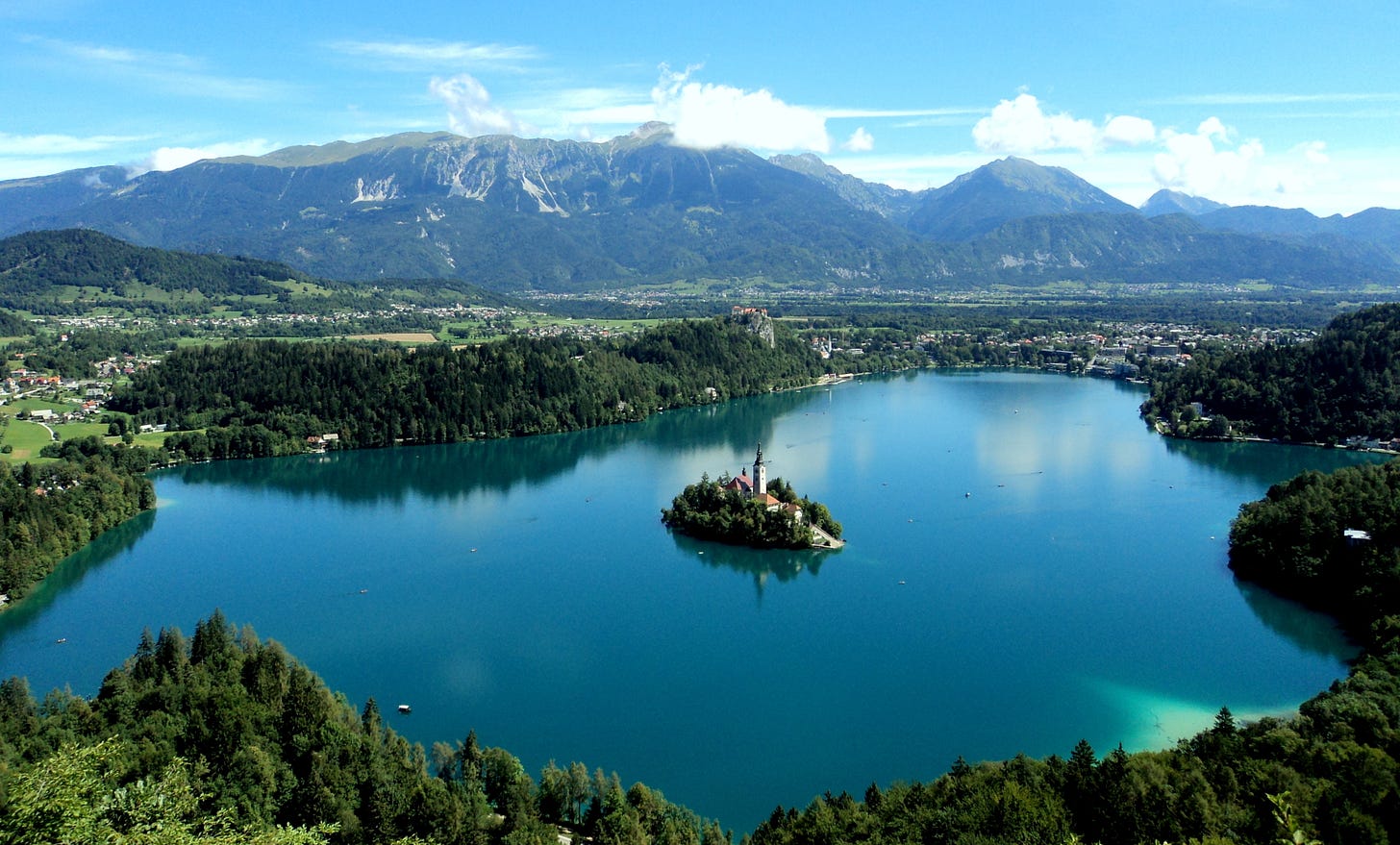 Another reader:
This looks like Lucerne, Switzerland. I sang at the Lucern Festival nearly 20 years ago, so my memory could be deceiving me. If it is Lucerne, I believe it is shot from the old city wall.
Another jumps to the right continent:
The limestone and the hills in the distance scream upper New York State to me. I'll go with Ithaca because it's more or less in the middle, but I figure it could be a courthouse or a hospital built in the late 19th century, pretty much anywhere between Jamestown and Albany. 
Another crosses the right national border by guessing "Waterton Lakes, Alberta, Canada." But this next reader gets the right province, the right town, the right building:
FINALLY, FINALLY, FINALLY!

After several years of spending an hour or two or ten each week — okay, we all had a nice hiatus the last few years — trying to sleuth out the location of the VFYW and then quitting in frustration because I'm not sure I'm even on the right continent (which is usually confirmed when the winner is announced), I was 99% sure I knew at least the continent, country and province right away. "That has to be the interior of BC!" I screamed at my computer screen. Familiar hill/mountain formations and vegetation, patches of clear-cut timber harvesting, metal roofing, and is that the Trans-Canada highway running alongside the lake?

I grew up in Alberta and drove the Trans Canada or took the train through the Rockies to Vancouver every summer to visit my elder siblings, who had escaped the brutal prairie winters in their late teens and moved to the coast. I moved out there myself as soon as I could, to attend the University of British Columbia, and traveled extensively in the interior of the province for many years. I live in Boston now, for 20 years(!), but still consider BC home.

A few targeted Google image searches later (after wiping the spittle off the computer screen from my earlier screaming), I identified the location as the Three Valley Lake Chateau at Three Valley Gap, a settlement near Revelstoke, BC, on the Trans-Canada highway at the head of the eponymous lake (www.3valley.com).
Another reader grabs the view from Google Earth:
You had me for a minute — it also looked a bit like it could have been northern New Hampshire, but the brown walls were unlikely ... seemed more Canadian ... but the Quebecquois are more log-cabin-y/rustic than that ... so ... lo and behold: BC.
It's a familiar view to this reader:
I immediately recognized Three Valley Lake Chateau, as a building I have driven past dozens if not hundreds of times. I'm sure you'll get approximately one zillion correct answers.
Closer to 56. Here's the big reveal of the big hotel:
So a week's worth of sleuthing last time did not turn up the correct town in Switzerland, but I somehow found this right away on Friday night? Always tough to predict the path this contest will take.
This one takes a haunted path shortly. But first some googling:
Easy one this week! I googled Red Roof Lake Resort and the third image on the Google Image results looked pretty good:
This reader went with different terms:
It wasn't until I considered the boats — the Zodiac and the blue boats pulled out of the water and the kayak on the lake — that I added "boat rental" to my search. So entering "'red roofs' 'lake' 'mountains' 'boat rental'" yielded pile of results in Google Image, and as I idly scrolled deep into it, I saw a picture that felt right.

Shout-out to my brother Mike for bringing VFYW generally and this week's contest in particular to our family's attention. An additional shout-out to Edward Charles Baring, 1st Baron Revelstoke, the British banker and head of Baring Brothers, for whom the town of Revelstoke was eventually named (after being first known as Second Crossing and then Farwell). He looks like money.
Based on the dozens of entries this week, it was very easy to get the right building, very difficult to get the right room. This reader suggests why:
It's definitely the Three Valley Lake Chateau. I wish I could be more exact than that, but it's frustratingly hard to find a property map of this place. I'm reasonably sure it's on the second floor, judging by the slight elevation and the color of the railing. See my attached photo for best guess on the room:
There's more to Three Valley Lake than the chateau, as this reader explains:
The official name of this place is Three Valley Lake Chateau and Heritage Ghost Town. They have 200 rooms for rent, and a creepy abandoned ghost town right next to it. Many people came to these parts of Canada in the late 1800s in search of gold. This town was developed around 1862. Amongst the spooky attractions, they have 25 historical buildings, an auto museum, and a railway roundhouse.

According to their web site, the roundhouse is "home to the largest fully operational covered turntable in North America. It has 24 bays and is approximately 300 feet in diameter... The lobby entrance to the Railway Roundhouse is a replica of The Arlington Court building from Revelstoke, B.C. .... Thoughtfully displayed are antique pianos and organs, hats, dolls, clothing, and a wedding collection."
FYI, a roundhouse is a building used to service and store locomotives, usually with a turntable, which moves the heavy trains. Here's a better view of the Railway Roadhouse:
My son, Ezra, age 12, is a fanatical Window View fan, and was absolutely determined to find this week's picture, because he knew the last one was in Switzerland but couldn't locate the city. So out of sheer determination, he set out to win this week's contest. He has great architectural sense; he loves hotels and nature, and hotels surrounded by nature.
Shout-out to Ezra. Meanwhile, our contest poet makes a cultural reference that Ezra definitely won't get (I had to google it myself):
In the land of the Mounties,
It's not beyond the pale,
To see Snidely Whiplash,
Tyin' Nell to a rail.

I found the Chateau,
The room, I must guess.
So where's Dudley Do Right?!?
I'm a dude in distress!!
Another such dude: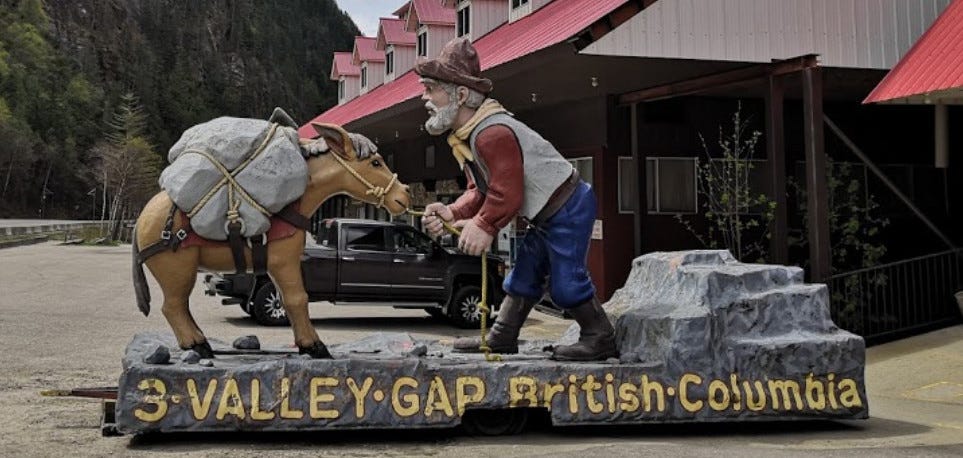 Chini chimes in:
"Jack be nimble, Jack be quick
Take a ride on the West Coast kick
Holiday road
Holiday road …"

Did Clark Griswold take this week's photo? Because I'm getting some serious Vacation vibes.
This reader definitely needs a vacation:
The contest this week was a relatively easy find, which means your inbox will be full, and I'll need to find some other way to "travel" this week. Boo.
Speaking of boo, a reader gets in the emoji spirit:
I checked out the website for Three Valley Lake Chateau — great choice for Halloween, right next to a heritage ghost town:
This reader tells us more about the ghost town:
It's comprised of historical buildings dismantled and brought to Three Valley to restore BC's gold-mining and railroad history. It was the compelling vision and lifelong passion of Gordon and Ethel Bell, who began building the museum, ghost town and hotel in 1956. While a bit idiosyncratic, it preserves buildings from a number of towns around BC that would otherwise be lost to time. I recall reading that the will of the late Mr. Bell prevents his family from selling or dismantling his life's work.
And perhaps his ghost as well? Another reader keeps the creepiness coming:
As I was spending hours clicking through these images, in the dark, with only the computer light … it got to me a bit. Turns out the 3 Valley Gap Lake Chateau hosts a "ghost town" — which sounds kid-friendly enough! Until you see some of the exhibits … like the old-timey dentist chair (!) 

And every parent's delight: a Titanic-themed pool (what the fudge!!)
Another reader recommends a mental health break: "Just a bit further up the highway is the weirdly fun Enchanted Forest." Another reader:
So, this was the first VFYW pic location that I've actually seen — with my own eyes! The most memorable thing about the area, for me, was that in 1998 I had a flat tire just a few miles past Revelstoke. I was almost eaten alive by mosquitoes while I struggled to change the tire on my brand new Ford Winstar. My two boys were going wild inside the car trapping and killing mosquitoes that had made it inside. There were blood splatter everywhere before I could stop them. Those were some huge mosquitoes.

Anyway, it's a beautiful location and a beautiful part of BC. But I see there are dangers — apart from mosquitoes — that may waylay the casual traveller. In April 2018, the Revelstoke Review reported on a "boulder the size of a vehicle" blocking the Trans-Canada Highway:

I swear that the mosquitoes are not that much smaller than this boulder.
Another reader points to a "Facebook page dedicated to the real dangers of avalanche and rockfall you face getting to the chateau." Another warning from a reader:
The "gap" of Three Valley Gap is in Eagle Pass of the Monashee Mountains. With heavy snows in winter, the highway is prone to avalanches, which can isolate Revelstoke for hours on end in winter. The locals call this time of year being "Revelstuck." The attraction is closed all winter; annual snowfall is among the highest anywhere in settled Canada.
This reader can relate:
The approach to the chateau feels like the opening shot of The Shining — a sensation that's heightened in winter when the place is shut down and drifts pile up around the signs advertising the adjacent ghost town.
Another adds, "the mountain pass made me think of Scatman Crothers and the Snow Cat":

From yet another reader who's visited the chateau:
A bunch of people say it's haunted, but I think that is hooey! The ghost town/museum was really cool. I could spend hours there, and their beef on a bun was amazing. The pool with the Titanic theme was also pretty cool. But to find your room, the place is like the Winchester Mystery House mansion.
About that room, this reader thinks he's nailed it:
By far your easiest VFYW of late. A quick search for "red roofed hotel by lake" returned the Three Valley Lake Chateau & Ghost Town. A call with the very friendly staff there indicated that this photo is likely taken from room 309. Send winnings please!  
Oh so close. Determining the winner this week was actually the quickest and easiest yet; I simply searched the inbox for "310," and this was the only reader who came up:
No typhoons in Osaka this week to keep me confined indoors, but last week's near miss in Switzerland was motivating. Mountains, a lake, Swiss chalet-style architecture ... it surely couldn't be Switzerland two weeks in a row, could it? I didn't think so, and I sensed something slightly ersatz and, dare I say, North American about the scene … which led me to Canada.

The extreme mountain face, the road at its base, the lake ... it didn't take too long to find a combination of those characteristics at Revelstoke BC, Canada: the Three Lakes Valley Chateau. Triangulating trees, ornamental bridges, and flower patches identifies the window as belonging to room 310:
From the reader who submitting the photo:
The picture was taken in room 310 of the Three Valley Lake Chateau in 3 Valley Gap, BC. I'm so chuffed to see it chosen for the contest, made my day. 

For vacation this year, we decided to stay pretty close to home (Fraser Valley, BC), but we still wanted to do something we had never done before. So we planned our trip around white water rafting on the Kicking Horse River. We didn't have a set schedule other than the pre-booked rafting trip and a short list of places to see: Banff, Lake Louise, Moraine Lake, and MIL's grave in Canmore. When we felt we had driven far enough each day, we searched for an available hotel.

On the way through 3 Valley Gap going to Banff, we remarked how often we had been past the Chateau but had never stayed there. So we resolved to do so on the way back, just because. The picture was taken in the morning just before we left to go home.
---
This week: Three Valley Gap, British Columbia. Next week: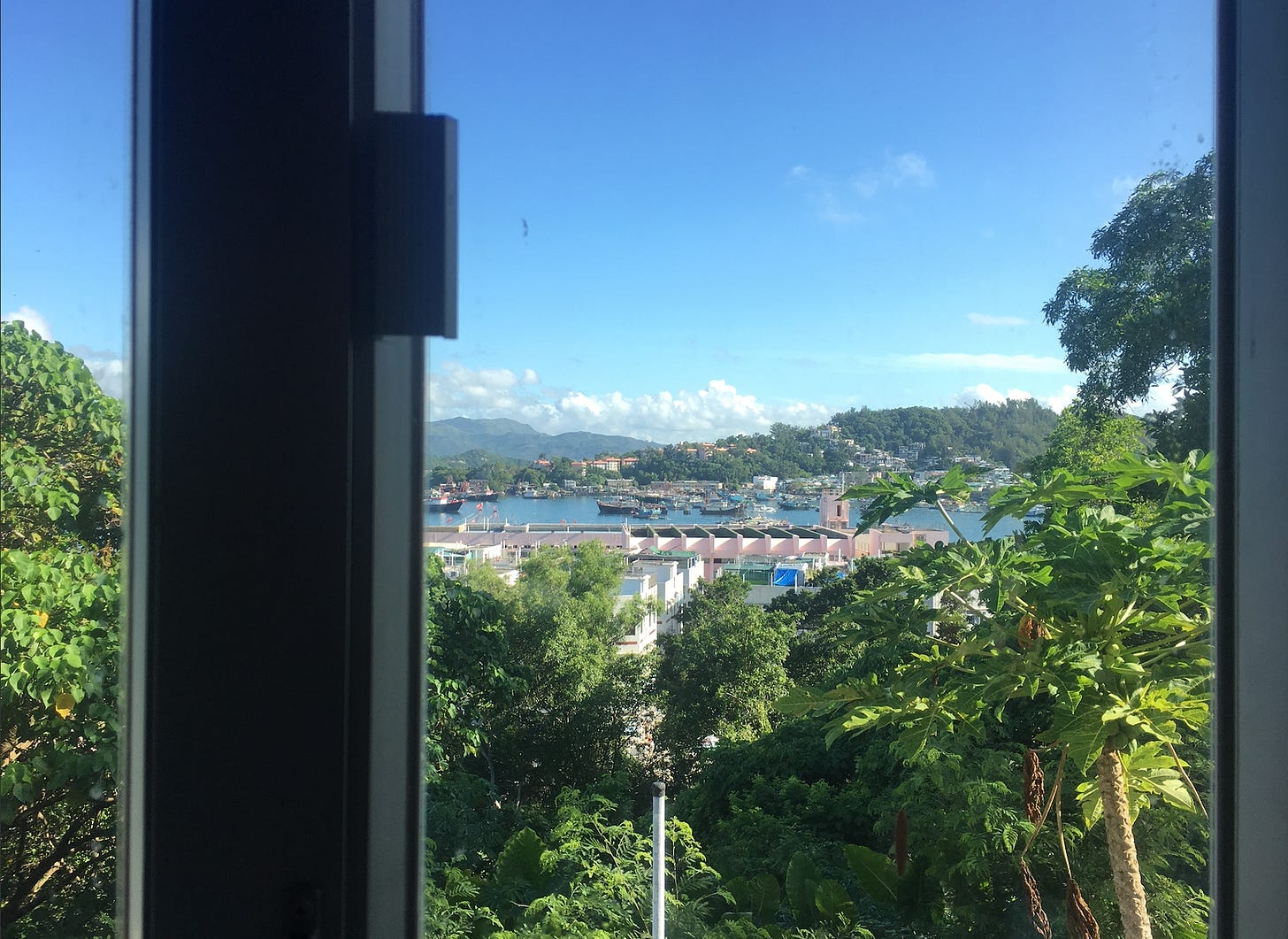 So, where is it? Email your entry to contest@andrewsullivan.com. Please put the location — city and/or state first, then country — in the subject heading, along with any details about the location within the body of the email. Bonus points for fun facts. The winner gets the choice of a VFYW book or two TWD subscriptions. Happy sleuthing!